Maze Field Trips
The South Texas Maize makes a great learning opportunity at the Graff 7A Ranch. We want to educate and 'recreate' our visitors! Schools (public and private) and homeschool groups are invited to visit on a weekday.  We invite you to visit to GET LOST in our classroom in the maze!  Date specific advanced online ticket purchase required.
••WATCH•• for questions to be answered at checkout, folks!
Dates & Hours
October 19 – November 10, 2023   9:30am-2:30pm
Thursday & Friday only
$10.00 per person, ages 3 to adult
One chaperone/adult per 3-5 students is REQUIRED.
Limited concessions. Picnics allowed.
Field Trip Tickets
Advanced online ticket purchase required for all field trips.
A fee will apply per ticket.
Ticket sales stop at 12 p.m. the day Of  a scheduled date.
Ticket required for everyone ages 3 and up. Limited capacity on each field trip date.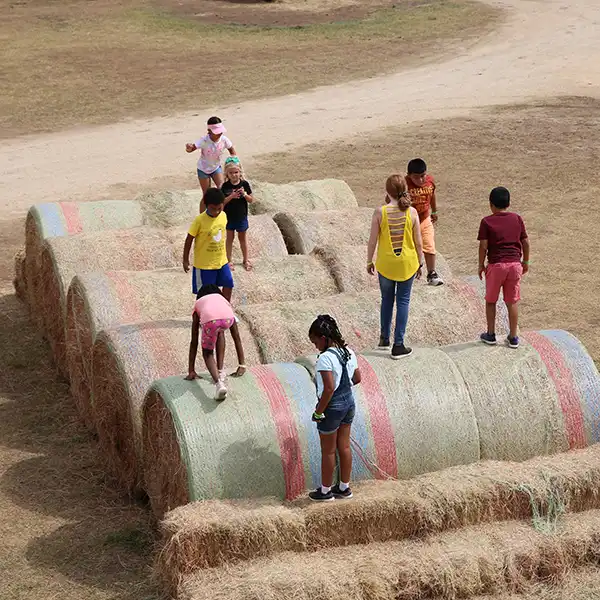 Every weekday field trip includes:
Explore a 8-acre maze with age appropriate "passports" to help guide you in and safely out.
Take a hayride, where the day-to-day operations of our farm and ranch are described. We'll also explain how agriculture plays an important role in everyone's lives everyday!
Enjoy a one-time ride, per person, (adults, too!) on the Barrel Train.
Pet our precious Boer goats (Feed available for 50-cents extra).
Scramble around on the Hay Bale Jump.
Have fun in Cowboy Ken's Kiddie Korral!
Zip to your heart's content on our Zip Lines!
Get unlimited sliding on the huge Matter-Corn Slide Mountain.
Things to Know …
Remember that an online ticket purchase is required for all weekday visits.
The weekday rate is valid on weekdays only; no discounts apply.
We encourage you to review our Farm Policies prior to your visit.
Tips for Teachers and Teaching Resources
Please visit our Teaching Resources section for lesson plans, curriculum, coloring sheets and more things that will make planning your field trip to South Texas MAiZE easier and more interesting! And check the Tips for Teachers for important information about organizing your trip.